Canopy Zipline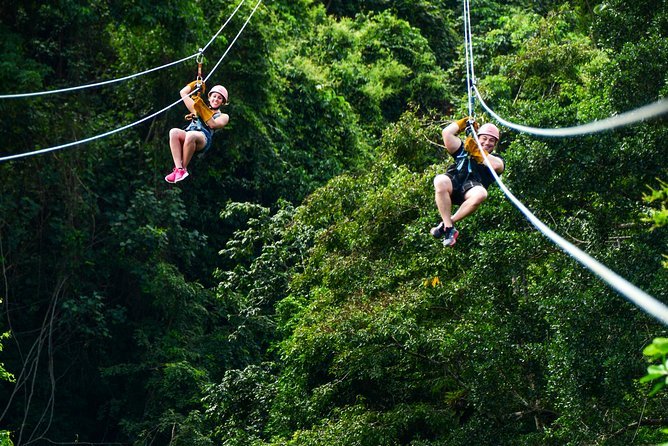 Duration: 5 Hours (approx.)
Product code: CANZIP
Be One With The Rain Forest!
Enjoy the adventure with our thrilling Zip Lines! Don't miss this stimulating adventure that will make you "fly" through the magnificent Anamuya Tropical Forest, near Bavaro-Punta Cana. Trained guides will show you how to harness up and do the Zip Lines. They'll also tell you the secrets of the Taino Anamuya Mountains.
Itinerary
Safety First!: After picking you up at the hotel in Bavaro-Punta Cana where you are staying, we will arrive at our Welcome Centre where all guests are required to attend a brief safety talk.
Get Ready!: After you've been provided the safety talk, you will walk to the first platform to face the challenge of "flying" from one platform to another. You will be harnessed and hooked to the safety line on the steel cable.
Get Set!: Once your guide has checked your harness and safety gear you will step to the front and look out to the next platform and the adrenaline begins to rush!
Go!: Your guide will help you zip from your platform and off you go "flying" through the canopy past one tree then another with the forest floor nowhere near! You'll go from one platform to another and complete the entire 700 meter circuit and will have the time of your life enjoying the beauty of the tropical jungle from a bird's eye view!
You Made It And Lived To Tell Your Story!: After your Zip Line circuit has been completed guides and instructors will take you back to the Ranch where you'll enjoy tropical fruits, water, and coffee while describing your adventure to any and all!
Zip Line Cable & Apparatus
Our Zip Lines are engineered and tested for safety. The line is built with a combination of two steel cables, one parallel to the other – the most reliable and safe system in the industry. The lines are calibrated to provide an appropriate speed so that you can enjoy the landscape while not going too fast with the feeling of being out of control.
Our Guides & Instructors
Throughout your time at the Ranch and while enjoying our Zip Lines, a guide or instructor will always be with you to further ensure your safety. Feel free to ask any question and they will be happy to help make your experience one to remember. Safety comes first so our guides and instructors will make certain your harness and connections are secure so all you have to worry about is zipping through the forest and having the time of your life! We also want to make certain that you are safe while on the ground. You will be in a tropical jungle with trails that can be wet and slippery so please take extra care when walking from one point to another and please wear shoes that will give you proper footing.
Requirements
Minimum Age: 5
17-And Under Must Be Accompanied By An Adult
Children 17-And-Under May Participate Alone With Written Permission From Their Parents
Description
Harness Size: 114 cm
Maximum Weight: None. The maximum weight supported is the 114cm outline of the harness itself.
Height of the Tower: 14 meters
Details: 15 platforms in 8 double cables. The cables are between 100 and 700 meters long.
Total Travel Distance: 2,100 meters
Departure & Return Location
Convenient hotel pickup and drop-off in Punta Cana
Departure & Return Time
Morning 08:00 – 13:00 / Afternoon 12:30 – 17:00
Pickup times and locations vary depending on the hotel you are staying at. We will be contacting you prior to your even date and prior to pick-up with the exact time and pickup location
Price Includes
Transfers to and from your hotel to the ranch

All of the necessary equipment for the activity (harness, helmet, gloves, and other safety equipment)

Fruit, water, and coffee at the Ranch

Accident Insurance
The Accident Insurance (Travel Assistance) is included when you reserve your zip line excursion with DR Day Trips. The insurance covers each paid guest for accidents in any of our excursions in Punta Cana (except for scuba diving which requires a separate insurance policy the guest must purchase)